With Star Wars Day approaching, it was only a matter of time before Epic Games renewed its allegiance with the Star Wars franchise. The Find the Force event, which will run until May 23, 2023, is live in-game, and the community has mostly had positive things to say. 
With a host of new gameplay mechanics, well-designed cosmetics, and rewarding quests, the event holds tremendous appeal even for non-fans. For those curious to know more about the collaboration, here is a quick overview. 
1) Star Wars Battle Pass
The Find the Force event has introduced a mini battle pass that will grant you access to a few fantastic Star Wars skins. You will level up and earn rewards by earning Galactic Reputation through event quests. The Galactic Reputation tab will help you track your progress. 
On the free track, you will receive ten unlockable items and the Clone Trooper skin as the final reward. The Premium Reward Track, worth 1,000 V-Bucks, includes four skins – Darth Maul Outfit, Wolf Pack Trooper Outfit, Ahsoka's Clone Trooper Outfit, Coruscant Guard Outfit – and a ton of other rewards as well. 
The quests to increase your Galactic Reputation will come to the game in three batches:
"The Force Within" Quests – Live

"Begun the Clone Wars Have" Quests – May 7 at 9 AM ET

"Fall of the Republic" Quests – May 12 at 9 AM ET
"The First Galactic Empire" quests are slated to arrive on May 17 at 9 AM ET to give Loopers an extra hand. 
2) New Star Wars skins
If you are a fan of the franchise, then there's no doubt you will absolutely love this collaboration. Fortnite already had multiple skins associated with the franchise, but now the collection is even more robust. With Anakin Skywalker, Padmé Amidala, the 501st Trooper, and the 212th Battalion Trooper coming to the Item Shop, it could be anyone's Victory Royale. And each of them looks meticulously crafted!
3) New weapons
Fortnite players who have experienced Star Wars collaborations before will not be surprised to learn that there are new weapons on the Battle Royale island. The long-ranged DC-15 rifle, found inside Republic Chests, promises impressive accuracy.
You can also receive different lightsabers from Star Wars characters appearing in different POIs as holograms. Obi-Wan Kenobi will grant you a green Jedi Padawan Lightsaber, and Anakin Skywalker will hand you a blue version of the same. Darth Maul bestows the red Sith Apprentice Lightsaber.
4) Gain Force powers
In a surprising twist, Obi-Wan Kenobi, Anakin Skywalker, and Darth Maul can be found on the Battle Royale island in hologram form during the event. If you accept their offer to train you, a Rift Gate will open up and engulf you. When you emerge, you will have a lightsaber in hand and exciting Force abilities that you can execute while wielding the melee weapon.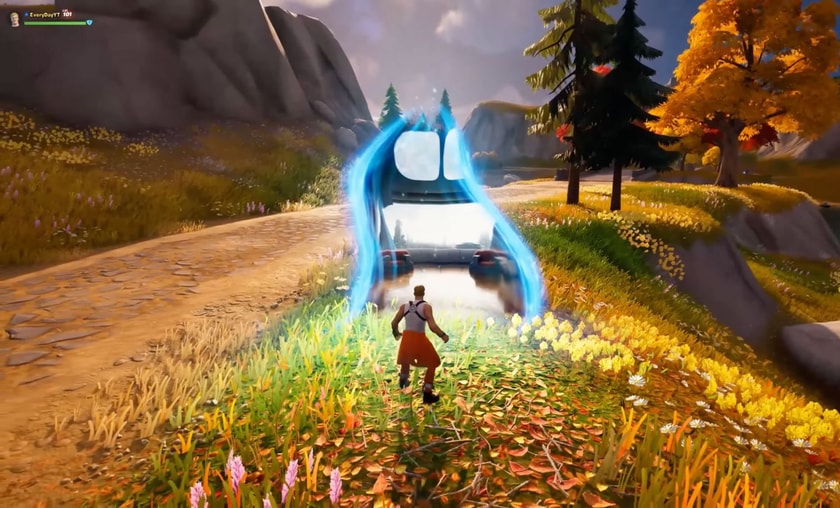 The holograms do not appear at the beginning of the match, so keep an eye on your Fortnite map. As the Star Wars characters spawn, you will see particular symbols appearing. Rush to the area and get your Force abilities.
Obi-Wan Kenobi – Push – Jedi training
Push objects and players away from you
Anakin Skywalker – Pull – Jedi training
Pull objects and players toward you
Darth Maul – Throw – Sith training
Lift objects from the environment and hurl them at players
5) Win Discord reward
You will be able to acquire the Coruscant's Pride Wrap Discord reward from May 4, 11 AM ET. Find out more about it on the Epic Games blog post.
What are you most excited about?