The first leaks about a "Neo-Tokyo" theme surfaced on social media in the first week of March, and the Fortnite community immediately began discussing their ideas and expectations. HYPEX's leak on Twitter gave us a glimpse of Mega City even before we knew the name of this already-iconic location. 
FORTNITE CH4 SEASON 2 IS "Futuristic / Neo-Tokyo" THEMED ‼️

Similar to Ch1S9 vibes. This is from the same reliable source that contacted me & @ShiinaBR. pic.twitter.com/YK39xjOWj9

— HYPEX (@HYPEX) March 1, 2023
Soon after, the leaker revealed the name of a Fortnite Chapter 4 Season 2 location, and players collectively concluded it to be the name of the "Neo-Tilted" POI. The season being named "MEGA" was perhaps a big hint.
SEASON 2 POI NAME: "Mega City" #FortniteMEGA

Also here's the bus image for this season, i was busy when it was posted. pic.twitter.com/ewO9uGiL6a

— HYPEX (@HYPEX) March 6, 2023
The official trailer for Chapter 4 Season 2 did an excellent job of enticing players with eye-catching visuals of the futuristic POI. With vibrant neon lights, grind rails, and numerous skyscrapers, Mega City established itself as the place-to-be this season even before it was in the game.
As soon as the season went live, players rushed to hot-drop into Mega City. Few had expected an entire Japan-inspired biome, but Mega City unsurprisingly remained the center of everyone's attention for the first two days. Landing in this POI and making it to the end game became a challenge in itself, which Epic Games must have foreseen because they made it an actual in-game quest. 
Mega City is fresh, innovative, and the perfect urban battleground
Mega City is a vast POI modeled after a futuristic Tokyo that can easily accommodate one-fourth of the lobby in terms of loot. Neither Tilted Towers nor The Daily Bugle had to cater to Zero Build players, but Mega City does it exceptionally well without comprising the Battle Royale gameplay.
After a solid month of hot-dropping in Mega City, here are our favorite aspects of the location:
Skyscraper buildings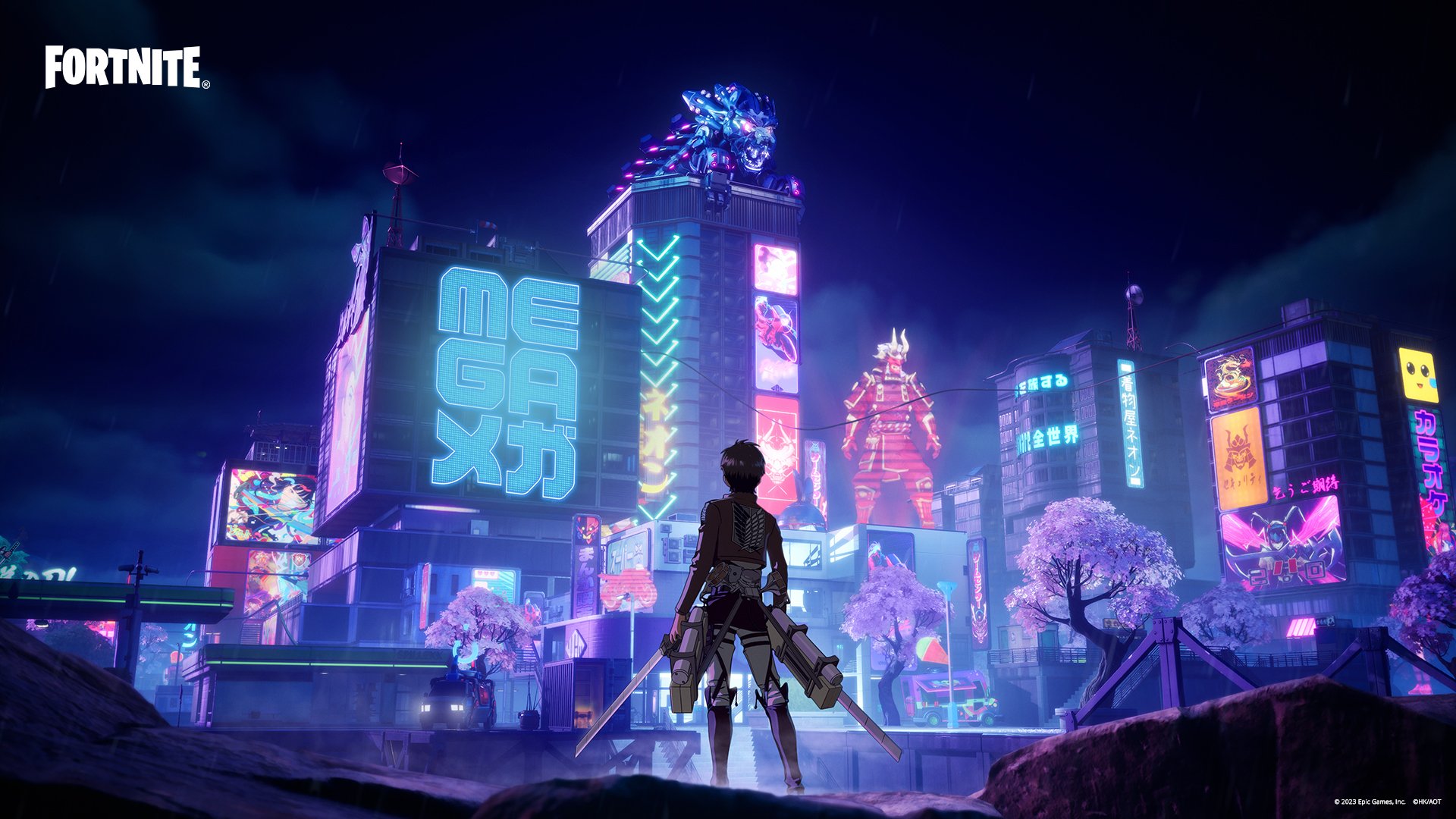 Mega City has several tall towers and buildings, but what sets them apart from those in Tilted is that their interiors are mostly hollow, with only one or two bottom floors and the roofs being accessible. Each of them has multiple vertical ziplines for easy mobility, and you can scale any height with a Kinetic Blade this season. One building even has a helipad! Additionally, the huge neon billboards and posters look stunning at night. Mega City offers the best of both worlds in that it allows for indoor fighting but also keeps you guarded from one too many sneak attacks.
Grind Rails
Threading through the entirety of Mega City, Grind Rails allow you to zoom around the location, fleeing opponents, firing shots, healing, and just enjoying the Fortnite life. They are reminiscent of slipstreams and the roller coaster mechanic in Rave Cave, almost like roller skating in mid-air without any restrictions. You can jump on any of the neon rails and go in your preferred direction, accelerating and slowing down as needed. You will not take any fall damage if you decide to drop off, which is a boon in Mega City.
Holograms
You will find giant holograms of beloved Fortnite characters performing emotes all around Mega City, and they are truly delightful. Even Lil Whip is there, dancing his heart away. Unarguably one of the best additions this season!
The Vault
Mega City, alongside two other POIs on the map, has a Vault with coveted loot. It is guarded by the Boss Highcard and his henchmen. You can acquire the Vault Keycard and Highcard's Havoc Suppressed Rifle by eliminating the him. Many players rotate into the POI after the second Storm circle spawns to access the Vault. 
Sakura Garden
This is an aesthetic choice, but there is no denying that Sakura Garden is one of the prettiest locations in the biome. With pink cherry blossom trees glowing beside the clear blue water, it provides a natural haven amidst the bustle.
Holo-Chests
If you have discovered the true potential of Holo-Chests, the new biome will be a gold mine for you as it is peppered with them. The best part? All the spots are easily accessible from Mega City, and you will have several opportunities to upgrade your weapons. Not to mention, CRZ-8, the NPC who spawns in Bamboo Circle near Mega City, sells keys. Feel free to duel him after the transaction since he drops a Kinetic Blade and a Tactical Pistol.
Vehicles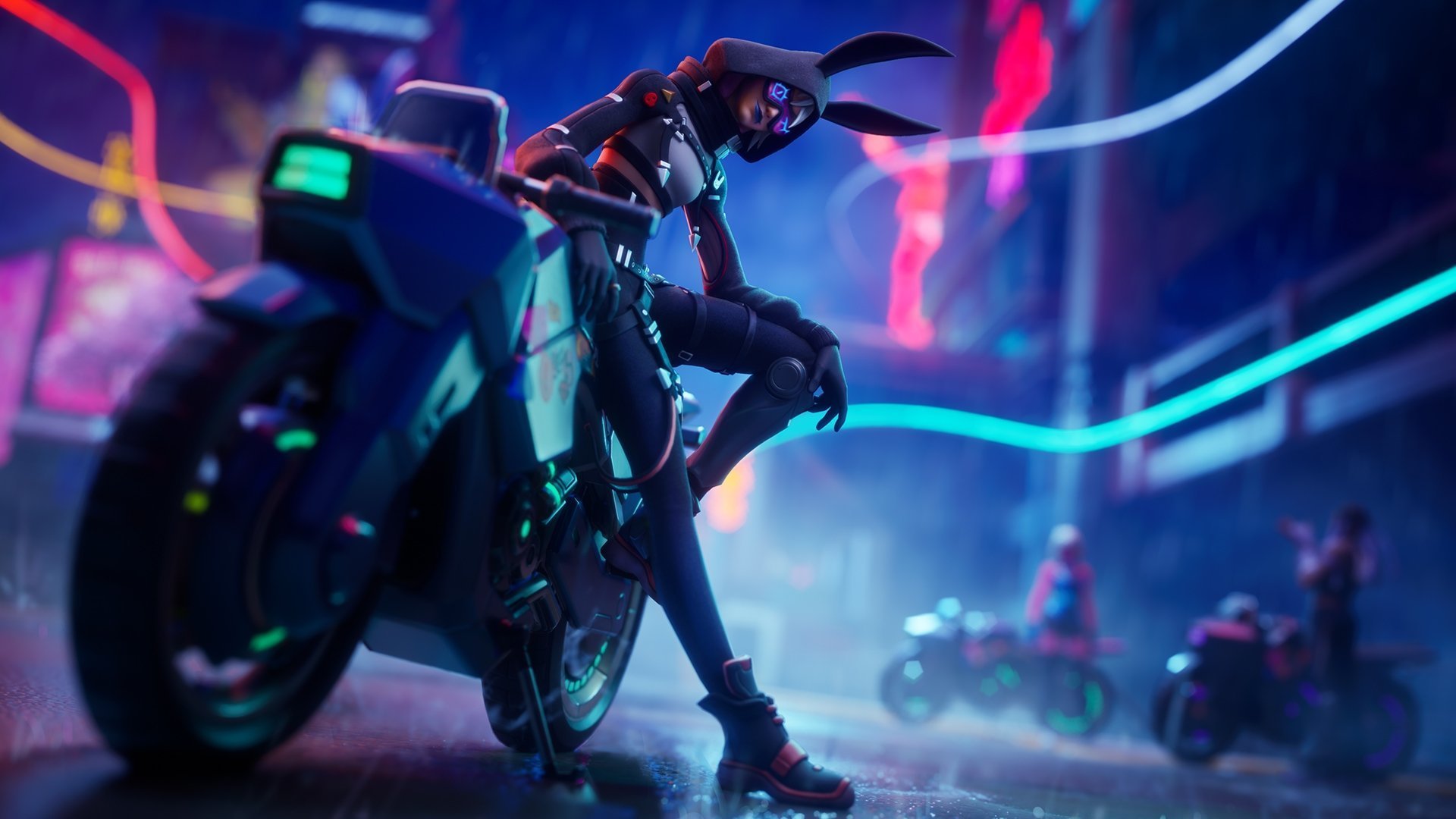 Mega City has a vehicle for you in every other corner, which definitely comes in handy. The Nitro Drifter and the Rogue Bike are new additions in Fortnite Chapter 4 Season 2, and both of them are quite speedy. Since this season has no off-road tires, these vehicles are actually at their best on the roads of Mega City.
Is Mega City still as popular?
There has been some talk recently about how Mega City lost its novelty rather quickly, with players no longer hot-dropping there as frequently. Some have attributed it to the lack of interiors and the limited indoor space. While that is valid, there are other equally plausible reasons why Mega City has seemed less crowded recently. 
Many players have already completed their challenges in Mega City, so they may want to focus on staying alive till the end game by going to less popular spots. POIs like Brutal Bastion and Shattered Slabs that came to the game in Chapter 4 Season 1 are actually quite good. At the end of the day, everyone wants to be the last one standing. 
One also has to account for the fact that the new biome consists of Steamy Springs, Knotty Nets, and Kenjutsu Crossing too. After exploring Mega City, it is quite natural for players to want to visit the rest.
With rumors going around that Mega City might be expanding soon, anything is possible.